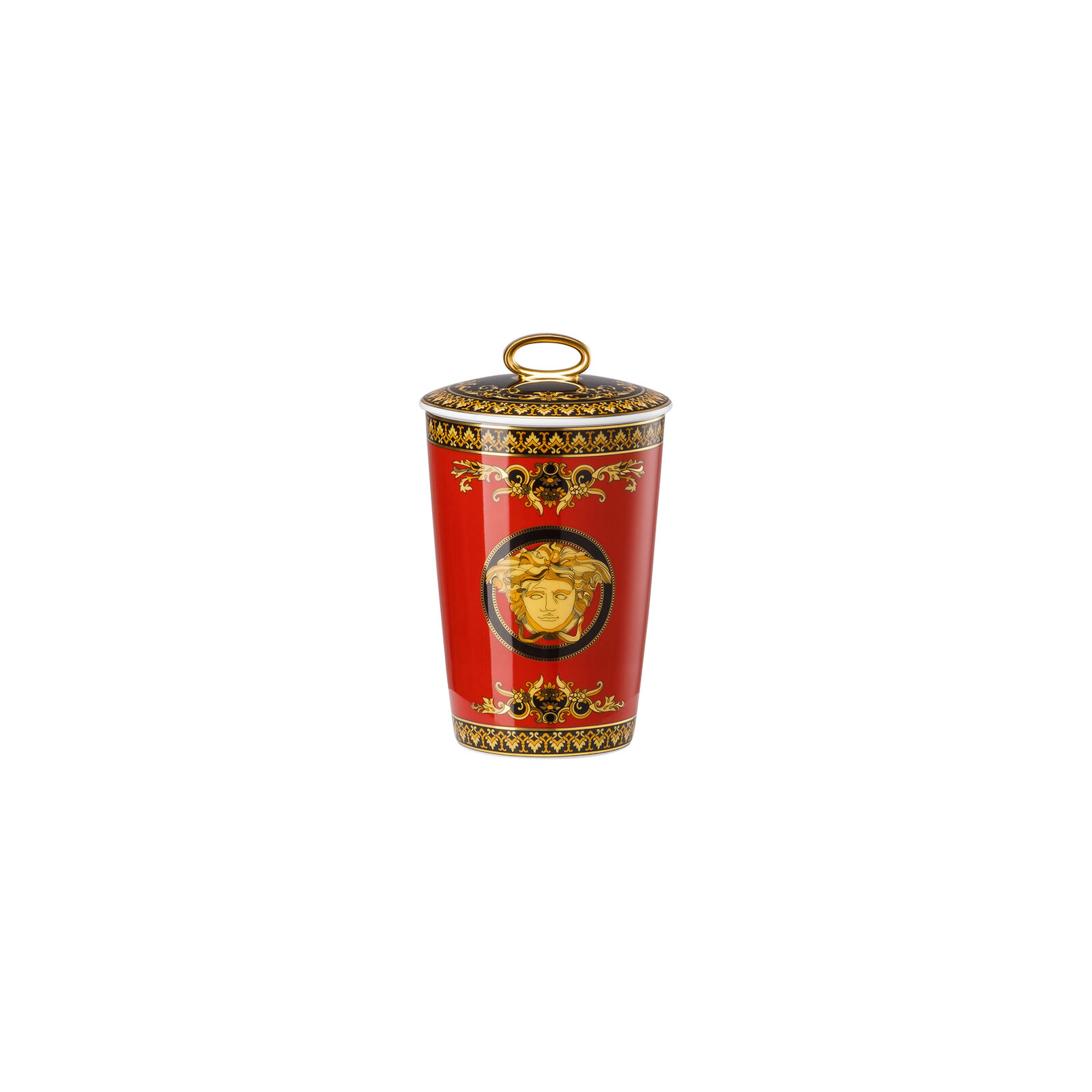 Medusa Medusa
Scented candle, 3 1/2 inch
Delivered in 1-3 working days
Notify me
Thank you for signing up, we'll let you know when this product is back in stock.
Product is already in notification list, we will let you know via email once product is back in stock. Thanks.
We are so sorry!
The product you have selected is not available at the moment. If you leave us your email address,we will notify you as soon as the product becomes available again.
Please enter a valid Email.
This fascinating Versace giftware is called Scented Candles Medusa. It is produced using the finest porcelain creating a style that is best described as luxurious and glamorous. The scented votive with lid measures 5 1/2 inch. The most prominent color of this item is red. Lavish ornaments decorate this piece and make it a 'must have' for everyone in love with opolent design.


Scented Candles
An elegant series of candles featuring the most iconic Versace motifs on one-of-a-kind porcelain: Medusa Gala, Vanity, Medusa, Le Jardin de Versace, Les Etoiles de la Mer, La Scala del Palazzo, Prestige Gala and I love Baroque. Stylish table accents with refined details and elaborate craftsmanship give that unmistakable Versace touch on fine natural wax candles with luxurious fragrance that shine brilliantly over 60 hours.
Brand:

Versace

Collection:

Medusa

Series:

Medusa Red

Material:

Porcelain

Decor:

Medusa

Item number:

14402-409605-24868

Year of introduction:

2019
Shape of item:

Conical

Height:

5 1/2 inch

Width:

3 1/2 inch

Length:

3 1/2 inch

Diameter:

3 1/2 inch

Weight of article:

1.35 lbs
EAN:

4012437372380

Dishwasher suitability:

Hand Wash Only

Material:

Porcelain

Number of prongs:

null

Number of items in kit:

null

Package length:

16,00 cm

Weight of packaging:

13/32 lbs

Package weight:

1.76 lbs

COO:

DE